In the frenzy following the release of the hilarious Austin Powers franchise, Apollo Productions has no difficulty selecting a theme for its 2002 New Year's Eve costume party at The Riley, on Vancouver's False Creek. The promoters wanted to attract a select party crowd to replicate, as authentically as possible, the wildly psychedelic atmosphere associated with the mod parties of the 60s.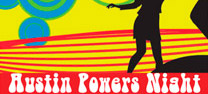 Pulling together an entire promotional package, Cyberscribe developed a series of hand bills, posters, postcards and newspaper ads to publicize the event. Working within the typography constraints of the Ticketmaster print shop, Cyberscribe employed unique creativity to design an attractive and corresponding ticket layout that surprised the printers themselves. Complementing the visual materials, Cyberscribe also wrote several press releases which were picked up by entertainment newspapers and online venue guides.
Following the DVD release of Goldmember, the third Austin Powers film in December 2002, the New Year's bash featured a neo-retro fashion show, go-go dancers in vintage outfits, and prizes for best costumes. The first prize was unanimously awarded when the one and only guest who dressed up as Austin Powers stunned party-goers with his remarkable resemblance to the character, complete with mannerisms, British accent and (fake) crooked teeth. Promoters were unduly credited with having brought in Mike Myers himself!