Documenting innovative and cutting edge products is always an exciting prospect for technical writers. In this case, Cyberscribe was not only working with an entirely new environment, the real estate (available space) for help text on handheld devices posed an entirely new challenge. Text would have to be brief, delivered in smaller sections than usual.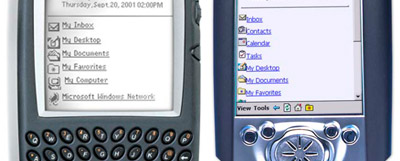 The challenge of a small screen gave Vancouver technical writing company Cyberscribe Solutions an early opportunity to deliver help content using the concept of progressive disclosure – that is, delivering information to the user incrementally. New users could delve deeper and deeper into subject matter while experienced users could scroll through topics, drill down to the appropriate section, then click on links within the content to explore the section in further detail. For users who were experiencing challenges with this new type of help system, product documentation was also delivered through the company website to supplement online help available through handheld devices.
MotiVus was a major evolution in corporate mobile strategy, setting new standards in wireless communications by connecting employees to their desktop and corporate network from any web-enabled device, at any time. The benefits were not only instantly recognizable by end users, network support staff and deployment managers—seeing its promise, Citrix bought the technology in 2003.