When Uponor developed their new residential Climate Control NetworkTM system, they needed a user-friendly guide to instruct homeowners through the process of setting up and maintaining their new climate control system.
Cyberscribe was tasked to produce a comprehensive guide that included visual representations and clear and concise instruction, specifically for a non-technical audience.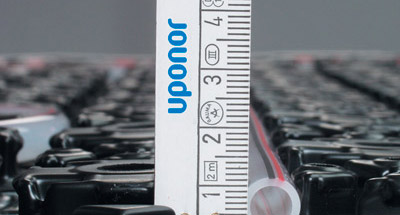 Cyberscribe Solutions produced a friendly guide to help homeowners to easily navigate through the programming and maintenance steps of the touch panel interface. Included in the guide are illustrations, step-by-step procedural instructions, tips, and other important and useful information that ensures that the homeowner can begin using their newly installed system easily and immediately with no confusion.
The guide includes colour schemes, graphics and distinct sections for water heaters, radiant floor heating, driveway melt systems, and hot water tank controls. The guide is easy to use, and is designed to put the homeowner immediately at ease and comfortably in control of the system.
Instead of creating specific individual controls for domestic hot water, mixing, snowmelt, boiler staging and zone pumping, all of these functions are handled by a single, easy-to-use programmable control that eliminates the need for multiple controls on a wall.